Firoz Muhammed 07 June, 2021
Want to become a Dynamics 365 Consultant and wondering how to become one? Then this blog will help you find the rest.
Microsoft Dynamics 365 is a hot domain for a good career. And Dynamics 365 certified Professionals get better salary than their counterparts.
What it takes to become a Microsoft Dynamics 365 Consultant?
Now the question is how to become a Dynamics 365 consultant. Or what it takes to become a Microsoft consultant.
I get these questions often from professionals and students. So here is the answer.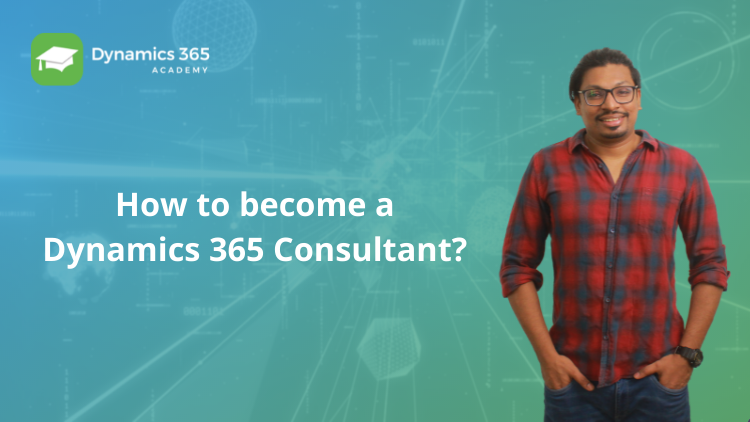 Steps to become a Dynamics 365 Consultant
Select your Job role: Do you want to become a Developer a Functional Consultant? Developers or technical consultant will do the customization of the application which involves coding as well. Functional consultant would be someone who understands the application in and out. No coding. Learn about Dynamics 365 Apps
Start attending Dynamics 365 training: Once you have the application suite and job role selected, search for some online and/offline training and attend it. This is a must. Dont do self study, it would take ages and you may get frustrated.
Do a lot of reading and research: Microsoft applications are very vast and functionality get updated like in every 6 months. So you have to read at least 2-3 hours a day in the beginning to catch up.
Setup a trail account: Most of the Dynamics 365 application suites provide trail account, create one for your practice or your training provider will definitely give one. Create trail. Watch how to create a trail
Practice yourself. Create a trail account of the applicate suite and start practicing. Once you start definitely you would have many things to try out and verify. Nothing beats practical experience.
Start giving interviews: Once your training is over, update your resume and start applying for jobs.
Join WhatsApp/Telegram groups. There are plenty of WhatsApp and telegram groups where people consultants look for local help on issues they are working on.
Repeat the same for next 3-4 years minimum. Start attending Microsoft events – online as well as offline, build your network and knowledge.
Want to learn Dynamics 365? Check out On-demand Dynamics 365 Training Courses
What is Dynamics 365?
Microsoft Dynamics 365 is an enterprise business application suite that includes CRM and ERP application packages. Using Dynamics 365 business can manage their customer engagement and operations end to end.
Dynamics 365 Customer Engagement is the CRM application suite within Dynamics 365. This Dynamics CRM suite allows sales, customer service and marketing departments to manage activities.
Dynamics 365 FNO( Finance & Operations) is the ERP suite. Using FNO organisations can automate their finance, supply chain, commerce, production, manufacturing, HR operations.
Learn about Dynamics 365 suite